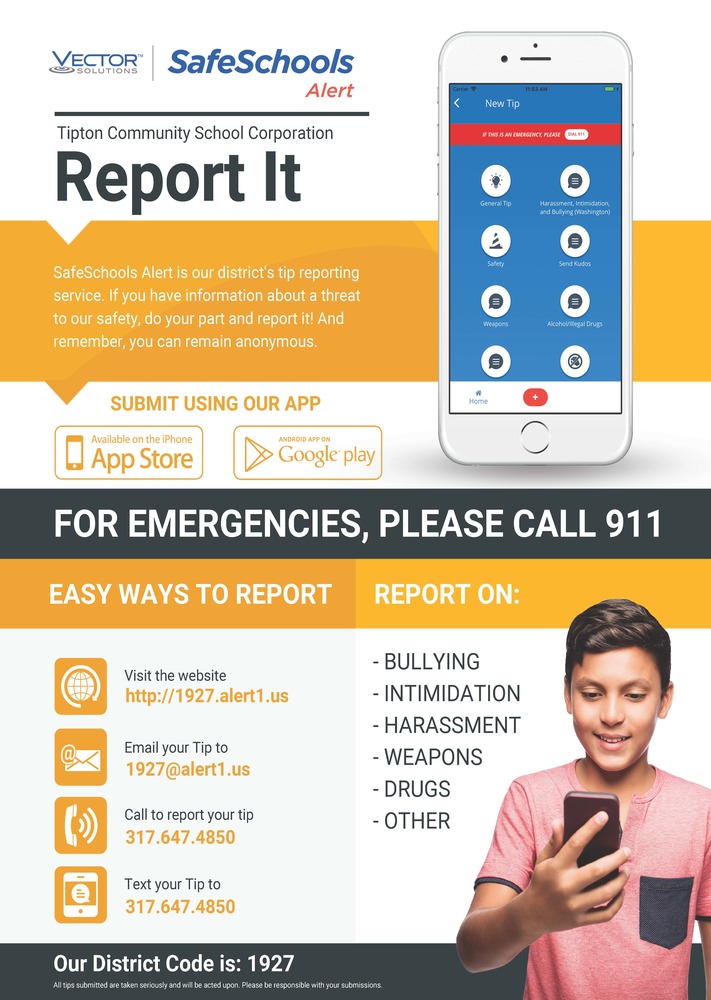 Safe Schools Reporting
Tipton CSC
Sunday, February 23, 2020
Tipton Community School Corporation is now using SafeSchools Alert, a tip reporting service that allows students, staff, and parents to submit safety concerns to our administration five different ways:
1. App: Search for "SafeSchools Alert" in the App Store to download for free
2. Phone: 317.647.4850
3. Text: Text your tip to 317.647.4850
4. Email: 1927@alert1.us
5. Web: http://1927.alert1.us
You can also go to any of Tipton school's web page and find the link, Report Safety Incident, in the Menu options. You and your child can easily report tips on bullying, harassment, drugs, vandalism, threats of violence, or any safety issue you're concerned about through SafeSchools Alert. When you submit a tip, be sure to use TCSC's identification code: 1927 in your communication.
Every tip SafeSchools Alert receives about our school is immediately logged in the system and our administration is notified so that they can investigate and take appropriate action. And, tips may also be submitted anonymously if you prefer.
Together, using SafeSchools Alert, we can make Tipton schools a safer place to work and learn! Thank you in advance for your support.