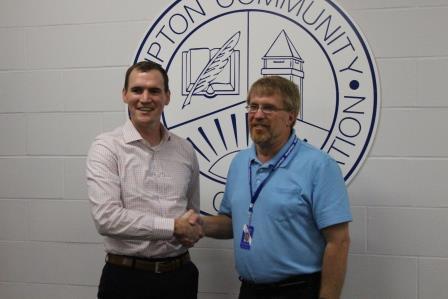 Kegan Schmicker Appointed to TCSC School Board
Kevin Emsweller
Thursday, October 03, 2019
In a special session of the Tipton Community School Corporation's Board of Trustees, the board voted to appoint Kegan Schmicker as their newest member. Schmicker replaces Rick Powell, who resigned last month, as the representative of Madison Township. He will take his seat on the school board at their next meeting on Tuesday, October 8.
Mr. Schmicker was one of five applicants who expressed interest in the position. All five applicants were highly qualified and board members commented on how difficult it was to decide on one. The board appreciated all who came forward to serve.
Mr. Schmicker is the owner of Elevate Consultants and Black Frog Designs in Tipton. He is very active in the community serving on the board of directors for the Tipton County Chamber of Commerce, Tipton County Council on Aging, and the Tipton Main Street Association.
TCSC welcomes Mr. Kegan Schmicker.