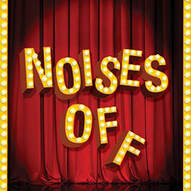 Sept 27-29 - TCT's Noises Off
TCSC
Wednesday, September 25, 2019
Make plans to attend Tipton Community Theater's opening production, Noises Off. All shows (September 27, 28, and 29) are at the Tipton High School Auditorium. Showtimes are Fridays and Saturdays at 7:30 pm and Sundays at 2:00 pm. Many Tipton staff and students are involved with TCT's productions. Noises Off features Mrs. Neely (TMS Language Arts Teacher) and Mrs. Hendricks (TES 5th grade Teacher) in a performing roles.
Called "the funniest farce ever written," Noises Off presents a manic menagerie of itinerant actors rehearsing a flop called Nothing's On. Doors slamming, on and offstage intrigue, and an errant herring all figure in the plot of this hilarious and classically comic play.
Come out and enjoy the talent the Tipton community offers.