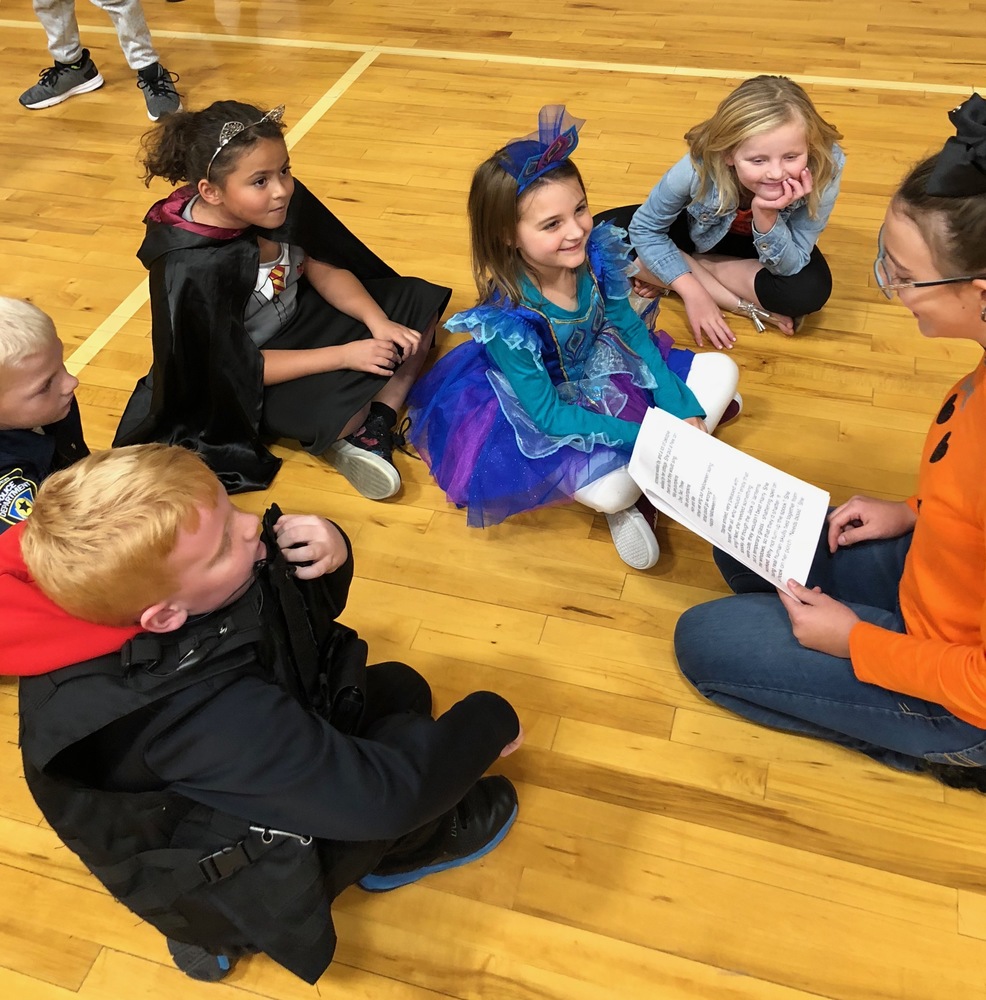 All Hallows Evening story
Lori Rayl
Wednesday, October 31, 2018
All Hallows Evening
Everything was normal in Hallows Eve. Normally strange, for strange was normal in the town of Halloween. Except for one thing…
Halloween was coming soon, and Titania, the witch, wasn't messing around. She needed this year to be perfect, if she was ever to beat Harry the Shop Keeper at the annual Hallows Halloween Festival and Competition Horror. (Boy, did they need a shorter name!) You see, Titania had a bit of a shop herself. She had a reputation as the second most festive person in the town. Harry was first. Titania wanted nothing more than to beat him and gain the title… that was once her mother's title. But that is another story.
To get in to the spirit, Titania first put out magic jack o' lanterns that sung when someone walked by, and a lot of people walked by her cottage. She put a hex on them so that they would sing;
"We are pumpkins
One, Two, Three
We are pumpkins
Him and Me
When we sing our Halloween song
What could go wrong?
Happy Halloween!!!!"
Titania smiled, very pleased with herself. After all, who wouldn't enjoy that song? Next, she needed something spooky. All though the Jack o' lanterns were cute, they wouldn't beat Harry. She put a temporary glass - shattering spell on the windows, so that they'd shatter. It worked. Why not turn up the spook? She hung real human skulls tied together from a hook on her porch. "Needs blood." She got some fake blood and put it in the perfect places. She put fake ravens in the trees. Then she made the windows open and close on their own. "Add in some creepy music here and there…" It was done! Titania went inside to go get herself ready for the Festival.
She wore a black and white dress, a big witch hat, and she had put her light blonde hair in a pony braid, with a black ribbon. The judges came to her house early, followed by Harry and the other competitors. They inspected her house very thoroughly. "Mhm. Mhm." She wasn't nervous, but she was confident she would win. How could anyone beat this?
"We have an announcement!" The judges announced. "The winner is… Harry!!!! 2nd place goes to Titania!"
What? Huh? How? She was so sure… No matter. That was only the first round. Titania followed the judges and competitors to the second round. On the way, they passed Harry's shop. Spider webs! That's how he'd won! His shop was covered head-to-toe in real spider webs, and even some authentic spiders!
The next round was pumpkin carving. Oh, was Titania gonna win! The competition began. Titania decided to carve something scary yet happy. She grabbed a more oval shaped pumpkin and began to carve. Soon, the carving was over. One competitor ran out of time, and put a curse on his pumpkin, trying to make it carve itself! That just made it rot. HA! The judges looked at all the pumpkins, and chose a winner. "The winner is…. Titania!" She won! Time for round three!
Round three was a halloween costume event. The last round. Winner takes all.
Titania did a vampire costume. It was spooktacular. It sure beat Harry's unicorn idea. (He loved unicorns.)
The judges did their thing. "The final winners are… third place- Harry Marsh!" Titania gasped. She probably beat him! "Second place…" Titania was not expecting what had come next. "… Titania Aluminari!" What? Who came in first place? "The winner of the annual Hallow's Halloween Festival and Competition Horror is… Adam Night!" What? Adam was a young man who lived next door to Titania.
As Adam received his trophy, Harry walked over to a frozen-in-shock Titania. "Good job," He said, holding out his hand. "You too?!" Titania was absolutely shocked! Harry… she'd beat him. Adam had beat her! Harry patted her on the back and she felt better. Harry was being so nice to her. It made her smile. Then, she got her trophy. The newspaper came and interviewed them. "It was a good Halloween," Titania told them.
The End!!!!
By: Spooky Madi Chillars